Community Partnership (HF/OLG)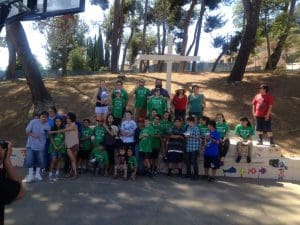 The middle school youth had been expressing a desire to go outside the boundaries of our parish and to encounter Christ face to face in others. They recognize that our church is bigger than the walls of our campus, bigger than our community, that it is spread throughout the world in the hearts of all people of good will.  In fall of 2013 the RE staff began conversations with the school of our sister parish, Our Lady of Guadalupe, about the needs of their community. Through conversations with their students, their school leadership, and our middle school youth, a community partnership was born. We gathered for a week during the summer to make new friends, build community, and join together in a communal mural-painting project. We painted a 300ft wall in the parking lot/playground of OLG. We spent the afternoons learning together about our Catholic Social Teachings of dignity and solidarity. It was an amazing week of community!
But our collaboration and friendship didn't end in June. We seek to continue to build relationships with one another and envision our next projects together for the benefit of both of our communities.
Community Partnership Reunion – TBD