Cambira Smith called a group together to vision for the Confirmation  This was our charge:
Goal:  To identify best practices, appropriate process and strategies for a Holy Family Confirmation Process and Youth Ministry to be implemented September 2012.  The ideal process will engage and ignite teens in our very diverse parish about their faith by taking into account where they are already on their faith journey and catechesis, their household of faith, and other factors which impact their confirmation experience such as public/private school backgrounds, time commitments, and developmental stage.  The ideal program will deepen the relationship of the teens and their households with God and as disciples of Jesus Christ.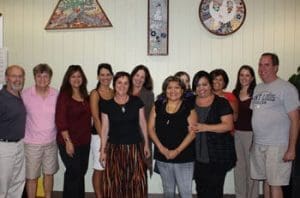 We are grateful to:  Tim Barker, Mary Baxter, Holly Caruso, Ben Coria, Angelina Duell, Cathy Estrada, Doreen Harmon, Thelma Hernandez, Kathy Holtsnider, Bernadette Hotaling, Virginia Kenny, Flannery LaGrua, Jay Madden, Nicole Madden, Erin Maloney, Dawn Ponnet, Frank Ponnet, Cambria Smith, Camille Spina, Karla Stephen, Carolyn Strong, Colette Villegas, Carol Watkins and Rebecca Whitfield  for all of their hard work, suggestions, and prayerful support.
The Confirmation Visioning Team
believes our God calls us to discipleship.
As His beloved disciples,
we are faithful in worship, service,
and community life.
We respond by wanting to know
more about our God and our church.
We ask all households of faith to look
at this confirmation process differently.
Instead of asking
what is Holy Family Ministry offering,
we invite each of you to make a commitment
to this community and the world at large.
Come follow our God
who so lovingly calls each of us
to servant leadership.