We're gonna try and clear this one up…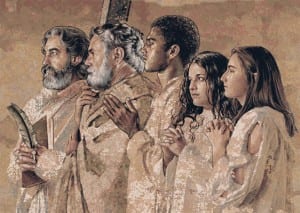 Not long ago, it was a custom to adopt a saint's name at Confirmation.  This was done in order to adopt the saint as a special heavenly patron and/or to honor a saint to whom one had a special devotion. In short, the purpose was to give the candidates an opportunity to develop his/her understanding of and reliance on the Communion of Saints. However since the changes in the Rite of Confirmation, the Church has encouraged returning to the older tradition of not picking a new name at Confirmation.
The idea is to link Confirmation to Baptism.  Therefore, the candidates are encouraged to use their baptismal name.   Usually during the first interview the interviewer asks the candidates to spend some time looking up their baptismal name and looking into the saint they are named after.  Some people are named after a popular saint, others are names after the "saints" in one's family.  Whatever the case, each candidate is encouraged to look to that saint for guidance and inspiration.
The use of the baptismal name on the occasion of Confirmation better expresses the relationship between Baptism and Confirmation. If a special Confirmation name is taken, it must be the name of a recognized saint (such as St. John, St. Martha, St. Teresa, Blessed Junípero Serra) or an acceptable recognized Christian name (such as Faith, Charity, Prudence). Individual teachers must guide their students in the selection of a Confirmation name, and those names are to be approved in advance. Only full names are to be used, e.g., "Joseph, Robert, Barbara, Gabriela;" not shortened names such as "Joey, Bobby, Barbs, Gabby."
"We need saints without cassocks, without veils – we need saints with jeans and tennis shoes. We need saints that go to the movies that listen to music, that hang out with their friends. We need saints that place God in first place ahead of succeeding in any career. We need saints that look for time to pray every day and who know how to be in love with purity, chastity and all good things. We need saints – saints for the 21st century with a spirituality appropriate to our new time. We need saints that have a commitment to helping the poor and to make the needed social change. We need saints to live in the world, to sanctify the world and to not be afraid of living in the world by their presence in it. We need saints that drink Coca-Cola, that eat hot dogs, that surf the internet and that listen to their iPods. We need saints that love the Eucharist, that are not afraid or embarrassed to eat a pizza or drink a beer with their friends. We need saints who love the movies, dance, sports, theater. We need saints that are open sociable normal happy companions. we need saints who are in this world and who know how to enjoy the best in this world without being callous or mundane. We need saints."
– Pope Francis, World Youth Day 2013