Every time Msgr. Connolly celebrates a First Eucharist Celebration, as a part of his reflection, he shares the importance of parents, sharing faith with their children.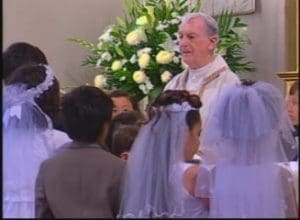 He remembers learning all of his prayers from his parents  not from the catechist, nor the priests of the parish.
As  a child I could not wait to learn more about God and the Church.  My mom was always trying to get me enrolled in some kind of catechism class.  So as a very small child I went to Catholic pre-school.   The parish where my family worshiped did not have a Catholic School so I went to a public school and CCD classes throughout my childhood and teen age years.  Throughout my life I always enjoyed my religious education and could not wait for the next session.  But my most fond remembrances of my faith formation, are  my mom teaching me my prayers, helping me learn the English responses at Mass (yes I'm that old!).  I also cherish the deep conversations I had with my dad as I tried to make the faith my own.  I caught the faith my parents lived and prayed.
As a Catechist,  I want good formation, and  I want our families to be able to embrace  time with their children and teens.  Recent studies have shown that teens are more likely to be connected to their faith if they live in a home where faith is practiced.   It is on these premises that the Confirmation Visioning Team changed our approach to include Family Formation in our Confirmation Process.  Confirmation is not about what we can make the teens learn, it is about discovering faith, sharing faith with others, and fostering households of faith.  Our hope is for parents to become so strong in their own faith and knowledge that they naturally share their faith with their children and bring faith into their family's everyday moments.
View an interesting video on the domestic church.
The challenge we present to our households of faith is to live the faith, even behind closed doors at home, day in and day out, in a dynamic way so that their children and teens will "catch it" from their families, as well as from their sponsors and from this community of faith. In addition, these few sessions will  support their efforts and further equip  them as parents/guardians to pass  on the faith in the most effective way possible.
Our formation for confirmation will include six sessions each year for candidates and their parents and if possible their sponsor. We will gather for 90 minutes at 3:45 pm on Sundays or at 7pm on Tuesdays. Parents and/or Sponsors will meet in the St. Joseph Center while the candidates gather in the Eden Center. Each group will have a one hour catechetical session followed by a thirty minute prayer service allowing candidates and their families to pray and reflect together.