---
There are six formation sessions each year of the Confirmation preparation process. Each session is from 3:45-5:15 pm on Sundays in the Holy Family Eden Center (teens) and St. Joseph Center (adults). Families are then invited to attend the 5:30 pm Mass afterwards.
Parents and/or Sponsors will select at least 4 of the 6 adult session to attend. Please start at the Eden Center to share in community time and opening prayer before heading to the St. Joseph for your adult session. You will be asked to share a reflection with your teen at the end of each session.
---
Below is our tentative schedule.
These dates will be confirmed by September 2021.
---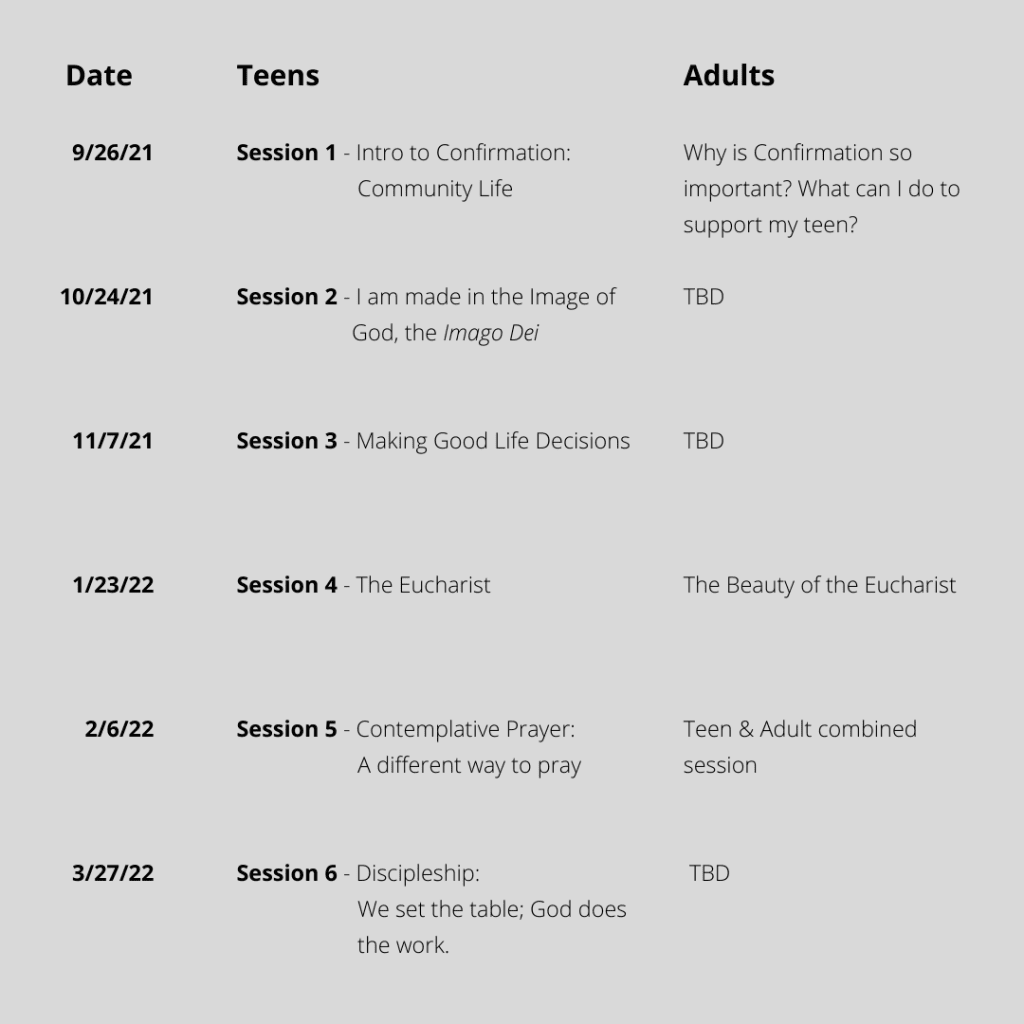 ---
Other Important Year 1 Dates & Reminders
---
---
Please be sure to register for your Liturgical Ministry, which is a required part of the Confirmation prep process!
12/2021 – Adopt-A-Family, gifts due
12/11-12 – StrengthsFinder Retreat,* Holy Family Church
12/19/2021 (tentative) – The Rite of Welcome, Holy Family 5:30 pm Mass,

Please invite your Sponsor!

– The Rite of Welcome allows the candidate to bond with their sponsor and allows the community of faith to bless the teens as they embark on this journey of faith.
4/22-24 – Parent Teen Retreat, Mater Dolorosa (Sierra Madre)
Summer 2022, Dates TBD – Teen Mission Trip (domestic)
---
*The retreat fee includes a copy of the book StrengthsFinder 2.0 (Tom Rath). Please pick up your book at least one week prior to the retreat so that the teen can complete the online questionnaire. They will use the online access code in the back of the book! These codes can only be used once. Teens will need to go online, complete the questionnaire, and have parents email us their results at least 3 days before the retreat. They will need to bring their books with them to the retreat.