Holy Family Youth Ministry is a comprehensive youth program grounded in the mission of Jesus and the Catholic Church, directed toward growth as loving Christian disciples. We welcome ALL teens in high school, regardless of faith background and personal beliefs. EVERYONE is welcome! We offer teens many ways to have fun, grow personally, and spiritually as a direct reflection of Jesus' heart.
Our HFYM Core Team teen leaders meet regularly to brainstorm and plan each teen-friendly night. See detail below the schedule for evening plans.
Youth Ministry Development Meetings: Teen Leadership we will meet for 15 minutes towards the end of each meeting date in the Eden Center.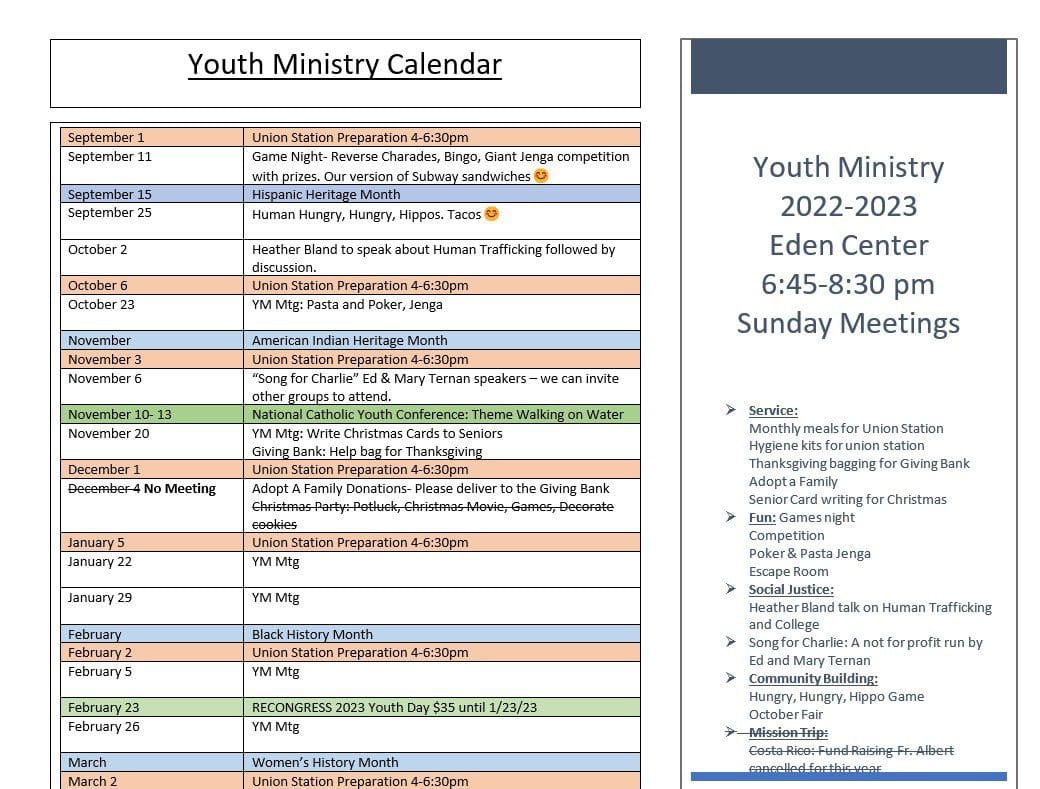 Monthly Service:
Union Station Adult Center food preparation and delivery. This is the first Thursday of every month. Join us in the St. Joseph Center Kitchen at 4:00pm – 6:30 pm. Come to the back entrance of St. Josephs and ring the bell to be let into the building. To signup to volunteer and also bring food: CLICK HERE
Some youth ministry ideas to date are as follows:
· Speaker/movie and discussion on climate change- What is our role and what can we do about it?
· Racism- Is it happening in our world and why?
· The News today- what do we learn what is happening this week and how does it affect us?
· Hunger – are there really hungry people in our midst? If so is our generation doing enough to prevent hunger.
· Equality- What is all the hype? Is this really a problem? Does this impact those in our state or even those closer to home? Why is this happening?
· Who can we help? what initiative would we be adopting and who will lead the charge?
· What do they mean Equity, Diversity, and Inclusion? Speaker?
· Who is the best speaker for a cause we know, and how do we get them to come and talk with us?
· What service project can we work on that will help those around us?
· Where would we like to go on a mission trip and how do we raise the funds?
More Ideas………