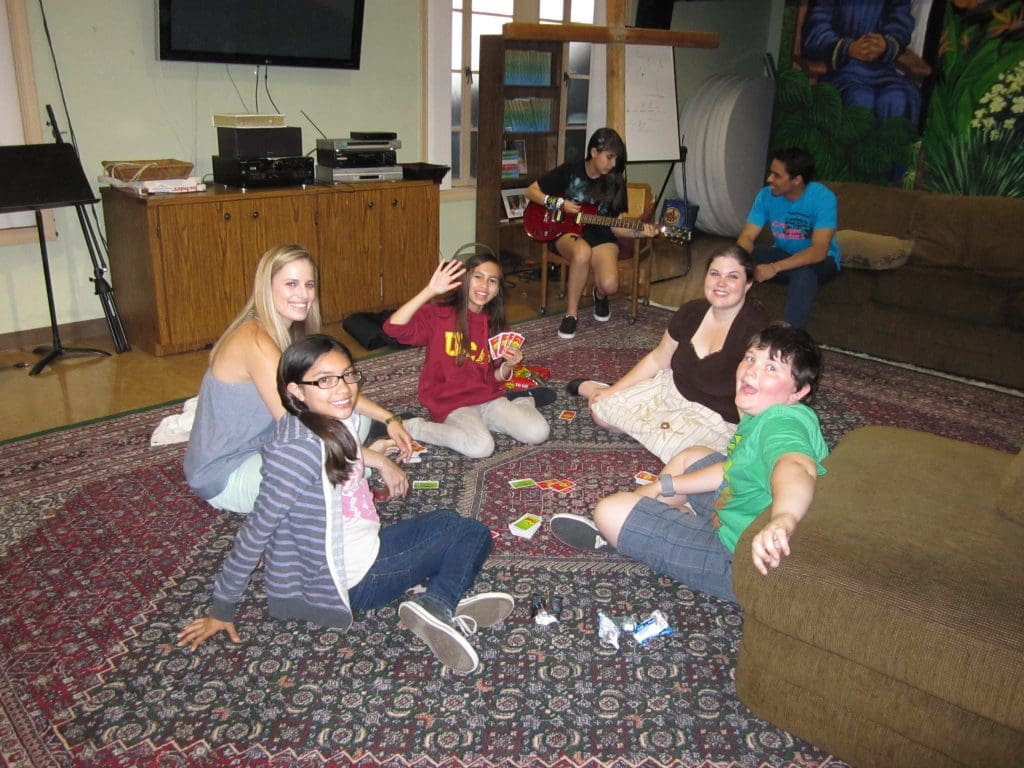 About the Core Team

The CrossWalk Core Team is a group of adults committed to sharing the love of Jesus with middle schoolers. In addition to facilitating our monthly CrossWalk sessions, we also gather for planning, fellowship, and training.
Members
Sally Cunningham – Sally is our Associate Director of Faith Formation (Youth Ministry & Confirmation) here at Holy Family. As a veteran of Youth Ministry, she provides a breath of Reverence, Wisdom, and Understanding (among all the other Gifts of the Holy Spirit) to our Middle Schoolers.
You – Please volunteer and join our team!
For more information on how to join our wonderful team and make an impact in the lives of young teens, please see below!
Role & Responsibilities
Core Team members are key players in the CrossWalk experience. They help participants discuss the faith formation focus of each session and engage in hands-on small group activities.
Skills/Gifts Needed
Welcoming
Friendly
Encouraging
Good Listener
Attentive
Open to learning
Requirements
Complete the threefold Safeguard the Children requirements (Sign Guidelines agreement, Virtus training, and Livescan fingerprinting)
Training: Training in small group facilitation techniques will be provided as needed and you will receive the lesson plan/guiding questions and resources for the session 5-7 days prior.
Time Commitment: 3-5 hours per month
Other Ways to Get Involved – CrossWalk Support Team
There are many opportunities to serve the CrossWalk Middle School Ministry! We invite and encourage all CrossWalk families to sign up to help with one session each year. As our ministry continues to grow, we are always looking for friendly, caring adults and older teens who would like to share their faith and support our efforts. We have both regular meeting times and single-event opportunities you can support us with. In particular, we invite you to join the CrossWalk Support Team.
The CrossWalk Support Team is for adults/older teens who are unable make a monthly/multi-night commitment to the but are still willing and excited to support the ministry. Support Team members are essential! They allow our Core members to our middle schoolers their full attention. Joining the Support Team is also a great way to meet other families and build community!
SUPPORT TEAM ROLES
Sign-In/Sign-Out Leader
Description: The Sign-In/Sign-Out Leader helps greet and say goodbye to the middle schoolers, ensuring that everyone feels welcome and stays safe. They are responsible for welcoming teens as they enter the Eden Center, making sure that they sign into the log book and receive their name tags. They may also be responsible for ensuring that teens pick up any materials on the sign-in table needed for the first part of the session. At the end of the session, the leader is responsible for saying farewell to all our youth as they leave, asking them to sign out, answer the "Sign-Out Question," and return their name tags. The Sign-In/Sign-Out Leader may also be responsible for making sure materials used during the session are returned to the sign-in/sign-out table.
Skills/qualities needed:
Friendly, welcoming attitude
Good memory for names/faces
Ability to give clear instructions
Punctual
Time Commitment: 30 minutes, single time.
On Sundays, Sign-In Leaders arrive by 3:45 pm and remain until 4:15 pm, while Sign-Out Leaders arrive by 4:45pm and remain until 5:15 pm.
Hospitality Leader
Description: The Hospitality Leader lays out and serves the delicious snacks brought by our CrossWalk families. Middle schoolers often arrive to our sessions hungry. By taking the time to receive and lay out the snacks, the Hospitality Leader supports our MSM Core Team by allowing them to focus their attention on our MSM small groups and activities.
Skills/Qualities needed:
Friendly/Welcoming Attitude
Punctual
Comfortable setting up without direction (past initial instruction as to the location of needed items – i.e. paper plates, cups, etc)
Ability to give clear instructions (ex: "Everyone may have 1 bag of chips and 1 piece of fruit.")
Comfortable serving/clean up (as needed)
Time Commitment: 30-45 minutes, single time. The Hospitality Leader arrives and lays out the plates/cups/napkins (if needed) & fills the water jug. The HL then collects the donated items as they are brought by the youth, and then lays them out on the table for snack time (approximately 7:15 pm). On special occasions (Halloween, Thanksgiving, Christmas) the HL may be asked to stay through the session (90 minutes) to assist with serving and clean up.