There are faith formation sessions each month starting in September as part of the Confirmation preparation process. Each session is from 3:45-5:15 pm on Sundays in the Holy Family Eden Center (teens) . Families attend the 5:30 pm Mass with their teen after each session. Facilitators of the small groups will walk their group over to the Church where there will be reserved seating for the Confirmation families. Teens respect their parents modeling their faith as they attend Mass together.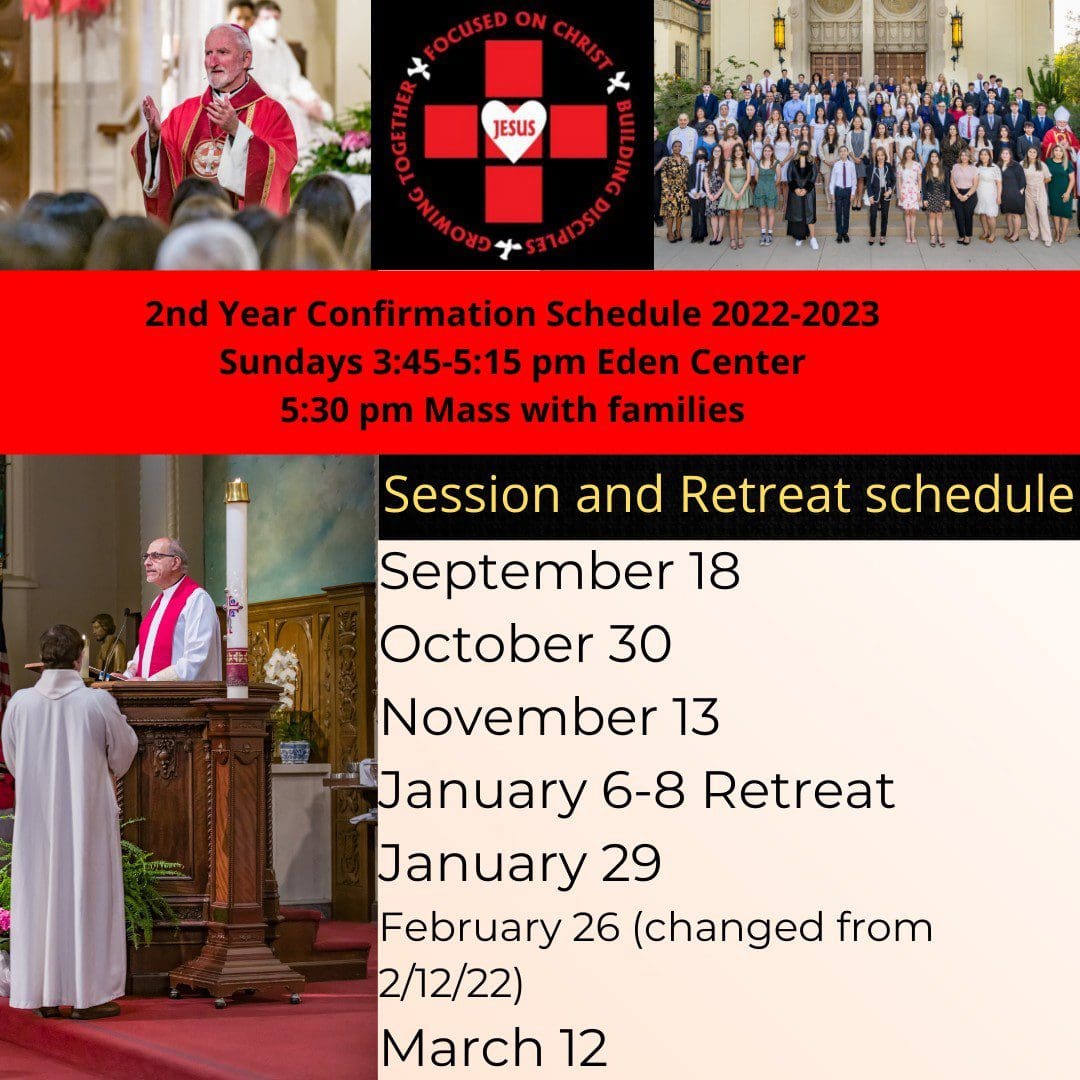 Please note: Confirmation date is April 21 at 7pm with Fr. Jim Anguiano, the Vicar for Clergy, as the celebrant.
Rehearsal is Tuesday April 18 at 7:15pm. Allocate about 90 minutes.
Other Important Year 2 Dates & Reminders
---
Please be sure to continue your Liturgical Ministry, which is a required part of the Confirmation prep process!
December 2022– Adopt-A-Family, gifts due
6-8 January 2023 retreat – Mater Dolorosa: This is planned as an overnight retreat. Teens in Year 2 will explore each of the seven gifts of the Holy Spirit. Each gift will be presented in creative and interactive ways. Teens attend all day on Friday night to Sunday in person. The retreat sessions will cover the 'Presence of God in our lives', The Gifts of the Holy Spirit and how we use them in our lives, Imaginative Prayer, Service and the Gifts of the Holy Spirit.
February 26, 2023 – Ritual of Affirmation, Holy Family 5:30 pm Mass, Please invite your Sponsor! – The Ritual of Affirmation–for both Candidate and their Sponsor–reminds them and the community to reflect on their lives and strive to perfect their lives as disciples of Jesus Christ.
Date September 9-11, 2022– Parent Teen Retreat, Mater Dolorosa (Sierra Madre). This is an optional retreat.
Spring 2023, Confirmation Day: April 21, 2023 at 7:00 pm

TBD – Family Reconciliation Service, Holy Family Church
April 18 at 7:15pm – Confirmation Day Rehearsal, Holy Family Church
Summer 2023, Dates TBD – Teen Mission Trip (Costa Rico)