Confirmation Dates: _________ with __________________ presiding
Tickets:
Holy Family Church can hold about 500 people. With about 100 plus candidates (teens and adults to be confirmed), 100 sponsors, two guests per candidate (200), and necessary liturgical ministers, that makes over 400 people in the Churchy. To ensure 2 guest spaces per candidate, we issue 2 tickets to enter the Church per family and no more. We open the additional spaces to guests on a first-come, first-served basis about 15 minutes before Mass begins. The parish hall will be available to watch the livestream of the Mass simultaneously for any additional family members and guests on campus: https://livestream.com/holyfamily/live
Reconciliation Service Tuesday March 26, 2024 at 7:00pm: The fullness of Initiation, begun in Baptism and strengthened in Confirmation, is expressed in the reception of Holy Communion, which nourishes and sustains believeres to live out their calling to be missionary disciples. The Archdiocese has asked that candidates and sponsors properly dispose themselves for receiving the grace of the Sacraments.
Rehearsal:  Tuesday ________ prior to Confirmation at 7:15 pm at the Church. (90 minutes – Sponsor and Candidate)
Confirmation Prelate:   __________________presiding
On the day of the Confirmation Mass…
Sponsors and Candidates will meet in the Hall one hour before the ceremony: 6:00 pm
A candidate group photo will be taken on the front steps of the church one hour prior to the ceremony start.
Candidates and sponsors will process from the hall to their assigned seating and be seated 10 minutes prior to the ceremony beginning.
Professional photographs will be taken of the candidates and will be made available electronically. Video of the ceremony will be made available to the families for downloading. (Families can't take photos in the Church.)
Certificates will be distributed in the Church after Confirmation.
If your family would like a professional family photo you will have the opportunity in the Church after Confirmation.
Confirmation Dress Code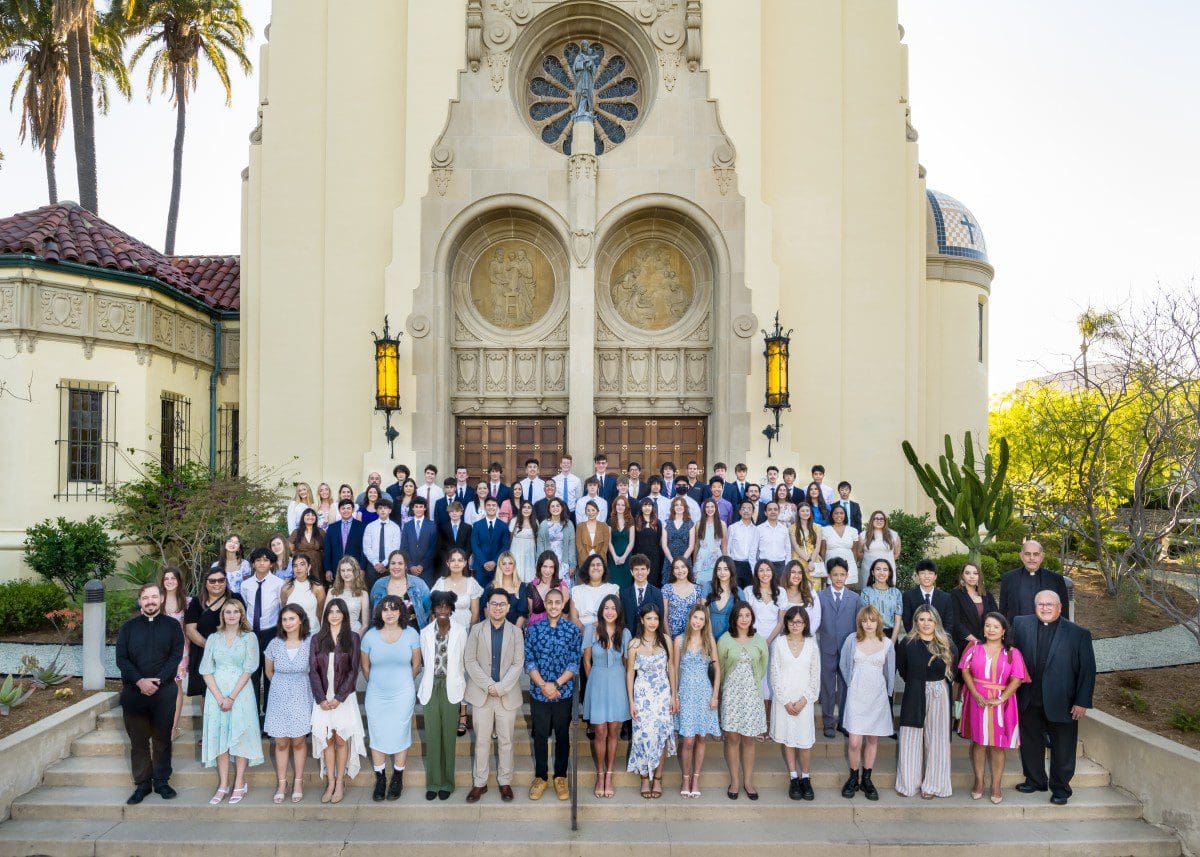 This is the day! Wear your Sunday-best–Dressy Dress…Think Church, modest, respectful. Note, however, you will be standing for a long time. Therefore, plan for the right shoes.
Women
Please choose a modest dress, blouse with a skirt, or shirt with dress slacks– not too tight, not too low, not too short, not see-through, no spaghetti straps, no miniskirts, no sheer shirts with under garments exposed, no bear mid-drifts. The length of the dress or skirt should be just above the knee or longer.
Men
White shirt and tie with dark slacks and dark dress shoes (no baggy oversized pants, low riders, T-Shirts or athletic wear).