Confirmation Dates:
To be announced for 2022
(Each year, every parish in the Archdiocese of Los Angeles submits their preferred dates for Confirmation Day to the Archdiocese. We may or may not be assigned our preferred day. The Archdiocese notifies parishes of their Confirmation Day date(s) late in the fall. We will share our assigned date as soon as it is announced. Thank you for your patience and understanding as we await this news.)
Tickets:
Holy Family Church can hold about 500 people. With about 100 candidates (teens and adults to be confirmed), 100 sponsors, two guests per candidate (200), and necessary liturgical ministers, that makes over 400 people in the Church already. To ensure 2 guest spaces per candidate, we issue 2 tickets to enter the Church per family and no more. We open the additional spaces to guests on a first-come, first-served basis about 15 minutes before Mass begins. The parish hall will be available to watch the livestream of the Mass simultaneously for any additional family members and guests on campus.
Rehearsal: TBD
Confirmation Prelate: Most Reverend David G. O'Connell
On the day of the Confirmation Mass…
Ushers will guide candidates and sponsors to their assigned seating.
Professional photographs will be taken of the candidates and will be made available electronically.
Family photos can be taken by the Grotto after the Mass.
Please pick up your Confirmation certificate from Sally or the assigned Confirmation team member.
Confirmation Dress Code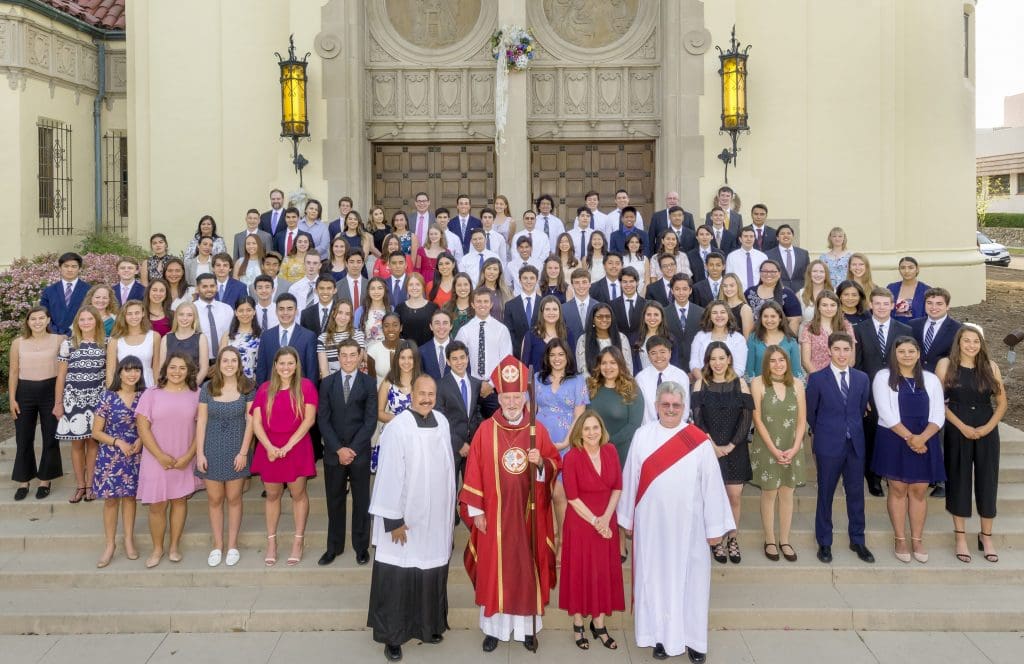 This is the day! Wear your Sunday-best–Dressy Dress…Think Church, modest, respectful. Note, however, you will be standing for a long time. Therefore, plan for the right shoes.
Women
Please choose a modest dress, blouse with a skirt, or shirt with dress slacks– not too tight, not too low, not too short, not see-through, no spaghetti straps, no miniskirts, no sheer shirts with under garments exposed, no bear mid-drifts. The length of the dress or skirt should be just above the knee or longer.
Men
White shirt and tie with dark slacks and dark dress shoes (no baggy oversized pants, low riders, T-Shirts or athletic wear).