As the candidates prepare for the Sacrament of Confirmation, they will celebrate 3 special rites with their sponsors and the larger community at Sunday Eucharist. During the Easter season of their second year, the candidates will ask for the Gifts of the Holy Spirit in the Sacrament of Confirmation. We will post dates as we are able to conduct the Rites.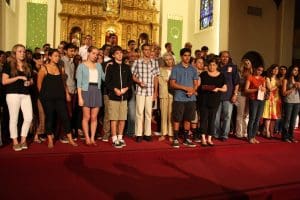 Tentative Year One—Sunday, November 11, 2021 @ 5:30 PM Mass:  Welcome to the Preparation for Confirmation   The Rite of Welcome allows the candidate to bond with their sponsor and allows the community of faith to bless these teens as they embark on this journey of faith.  
Tentative Year Two— Sunday, September 19, 2021 @ 5:30 Mass:  Blessing for the Journey toward Confirmation   During the Commitment to the Journey, which marks the half way point, the  community is invited  to continue to shower the young church with blessings. The candidates are asked to persevere in their journey to celebrate the Sacrament of Confirmation. The sponsors, once again, pledge their support with their words and actions.
Tentative Year 2: January 30, 2022 @ 5:30 Mass:  Prayer and Blessing for Proximate Preparation for the Sacrament of Confirmation    The Ritual of Affirmation, for both Candidate and their Sponsor reminds them and the community to reflect on their lives and strive to prefect their lives as disciples of Jesus Christ.

To be announced Year Two—  The Sacrament of Confirmation    Confirmation imprints on the soul an indelible spiritual mark, the "character," which is the sign that Jesus Christ has marked a Christian with the seal of his Spirit by clothing him with power from on high so that he may be his witness.   We usually learn the date in the fall.

Family Reconciliation Service:  in the Church the Sunday before Confirmation
Rehearsal for candidates and sponsors:  in the Church the Tuesday before Confirmation
Confirmation, sometime during the Easter Season (April 12-June 8)  in the Church, Candidates and sponsors meet in Connolly Parish Hall at 6:00pm for photos and other preparations.  The event will be livestreamed our Holy Family's web site.